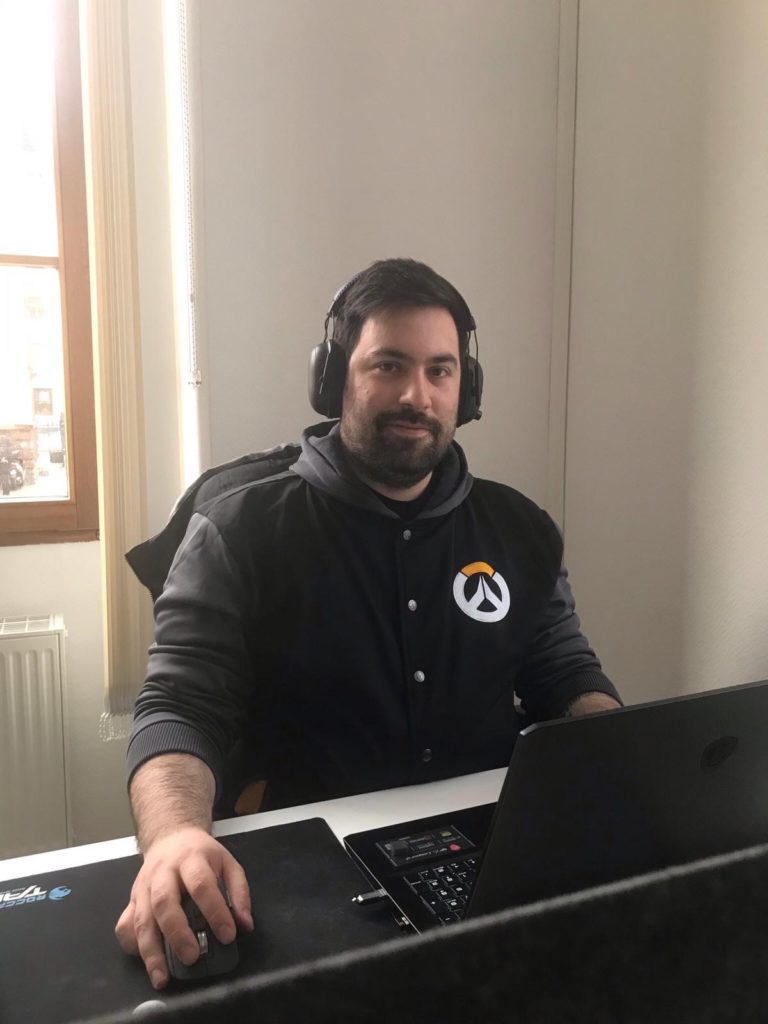 Some weeks back, I got a phone call from a guy called Stratos that he was looking for a place to work and if he could stop by to take a look. A few days later, Stratos joined officially our community and added not only a new industry to our group. He is also our first YouTuber, and we are proud to say that we are one of the 171,000 followers of his channel! We asked him to explain a bit about himself.
1. What is your official job title?
Stratos: "My job title is weird 🙂 I am both a content creator on YouTube AND a video editor for various esports teams and YouTube/twitch creators."
2. How did you get to do your job?
Stratos: " All started when I came back from a failed internship in Lleida, Spain, back in 2016. I was there with my best friend and started an internship as a game developer, but quickly realized it was not something that I liked doing, and I left after only 4 days of work. When I came back home, I started making silly videos with some funny moments from my gaming sessions and then ended up watching a bunch of tutorials on how to edit. After 6 months I got an email out of nowhere that asked me to be a video editor for a YouTube channel that was just starting but had huge potential. Initially I thought it was a scam, but it ended up being my main editing job for the next 2 years."
"The channel went from 10K subscribers to 560K the day I stopped working on it and my videos (more than 120 of them) had a total of more than 100M views combined. After that I managed to get more clients/YouTubers to work with and grew my CV/Portfolio rapidly in the next year or so. At the same time I was building my first YouTube channel and managed to grow it up to 25K subscribers and a total of 6M views. The videos were for a not that big game called Heroes of the Storm. "

"After working a year as an editor with the owner of the Recall YouTube channel, we decided that I will take over the channel and create content weekly on it and become part owner. That change happened in May 2019, and it was mainly because the channel needed some drastic changes and a voice/face in order to be able to monetize the videos, and I was willing to do it, so I therefore became the face of Recall plus the editor plus part owner."

"At the same time I continued working with other clients and in 2019 I worked with some big ones such as FNATIC, NYXL, Andbox, Rekkles, Broxah, Aphromoo, Kaypea and many more. So my CV/Portfolio at that point was pretty well-built. And since then I am doing my best to help the Recall channel grow and at the same time find new clients mainly into the esports scene such as TSM."

3. What is the name of your game, and why do you like this game so much?
Stratos: "The name of the game that I create content about on the Recall channel is Overwatch. I have been playing this game since day 1 back in May 2016, and I instantly fell in love with the aesthetics, the world and the gameplay overall. I remember the first time that I played it, I couldn't sleep at night because I was really excited and had a dream of playing the game as well."
4. What is a popular game everyone seems to love, but you do not like, and what is the longest time you have sat playing games non-stop?
Stratos: "Oh maaaan, that would be Fortnite for me. I just can't seem to like this game now. I used to play it the first year it came out, before it blew up the internet. But eventually I somehow started really not liking it and after working on some video content on it, I hated it. It's one of the few games that I refuse to create content/videos about."
"The longest time I have played would be around 10-14h back when i was 16 years old at an internet café. I spent 3 days straight playing for around 16h a day with some breaks for food and WC with some of my friends playing Warcraft 3 and Call of Duty. Those were some great times…"

5. Why did you choose to work in a Coworking Space?
Stratos: "I did not have any Coworking experience until I started working at Tink Tank. It helps me be more driven and willing to work. The fact that I come to a place where other people around me are working, helps me motivate myself to also work hard and not slack off on my couch or my fridge now and then."
"I like Tink Tank because of the atmosphere, the space itself and how clean, tidy and well-designed it is. Also, from the first time I met Lone and visited the space, I got a "family" kinda vibe, so I loved that as well. Lone is a great person that also cares a lot about your needs and you personally."
"Working in a Coworking space makes work easier for me due to fast internet (the fastest you can imagine), comfortable ergonomic chairs and desk, a lot of natural light and a spacious area to work, so people are not on top of each other, especially during these COVID-19 times when things like that are super important."
Thank you, Stratos, for the interview and for being with us in Tink Tank!
Follow Stratos on his YouTube Channel "Recall" – https://www.youtube.com/channel/UCMv-zxJuFkpRnNRQhFuVKEg