Throughout the history of popular culture, there were duos that would be long remembered. At Tink Tank Space it's Hilary and Lorna!
Whether it's the opposites or the similarities that make them so tonic – let's find out in our interview!
Tink Tank: Who are you, what do you do for a living, and where do you work?
Hilary: Originally a chemist from Ireland, I have now lived in Germany for about 10 years and I work in pharmaceutical regulatory affairs.
Lorna: I'm originally from the UK but lived in several countries before arriving in Germany in 2007. I studied chemistry and work as a post-doctoral researcher before starting a career in publishing, where I have had a few different roles and am now a publishing director responsible for our relationship with the German research community.
Tink Tank: Are you colleagues? How do you know each other?
Hilary & Lorna: We are not currently colleagues but have worked together in the past. We met when we were both editors working on materials science research journals in a scientific publishing company, where Lorna still works. It's funny to find ourselves office mates again after quite a few years, especially as we came to the Tink Tank separately without realizing we were both going to be here.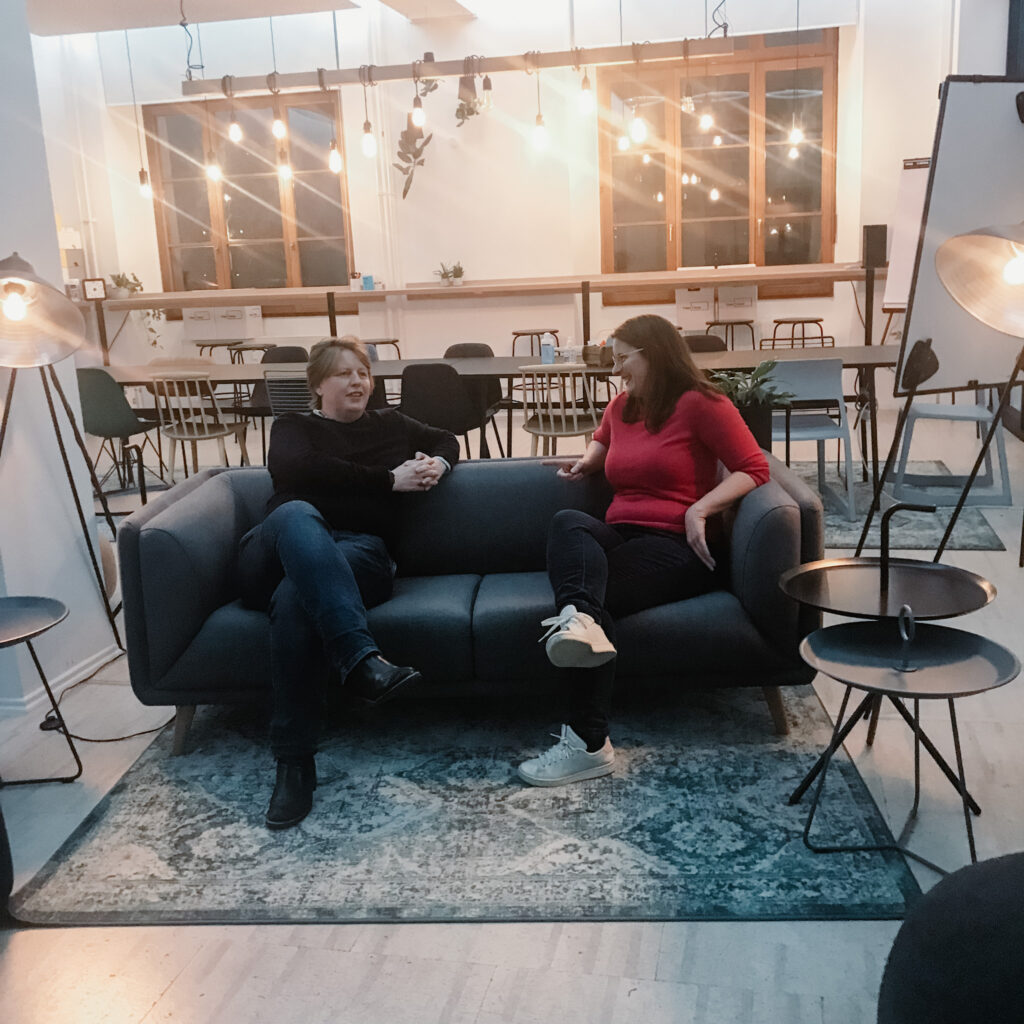 Tink Tank: What's your go-to productivity trick?
Lorna: I live to ride the inspirational wave as much as possible – I know that I am much more productive when I work on the things that are piquing my interest at a given time. It's easier to achieve things when they don't feel like work. I review and revise a lot of documents and really the option to have my laptop/phone read them to me for a change.
Hilary: I am at my most productive when working on challenging problems in a close-knit team.
Tink Tank: Do you already have experience with coworking?
Hilary & Lorna: This is our first experience of co-working.
Tink Tank: What are the differences between a coworking space and your usual office?
Hilary & Lorna: We've both been working from home since March 2020.
Hilary: Compared to my homeoffice, Tink Tank is much more stylish and sociable, and I don't have to hoover it!
Lorna: Compared to working in my company office pre-pandemic there are fewer interruptions, which can be good and bad. These days the interruptions tend to be virtual, so easier to ignore. I like the uncluttered feeling and really appreciate having my living space back again after working at my dining table for 18 months.
Tink Tank: What do you think is great about working in a coworking space?/What do you like about Tink Tank?
Hilary & Lorna: The social and networking events offer a chance to get to know others in the office, working in a variety of different areas. The different spaces for desk-work, meetings, chilling out offer a nice chance to change the working environment from time to time.
Tink Tank: If you could add one thing to Tink Tank, what would it be?
Hilary: Fußball table!
Lorna: Hot chocolate for the drinks machine and running sushi (yes, two things).
Tink Tank: What's one professional/private skill you're currently working on?
Hilary: Australian Football, it's a steep learning curve!
Lorna: Professionally, I am working on change management qualifications. After work, I'm currently doing an Impro course – my first time on stage in German!
Tink Tank: Do you have a common hobby? 
Hilary & Lorna: We have enjoyed quite a few activities together over the years and have found ourselves bouldering and climbing (well, at least once together!), performing improvising sketches in the Heidelberg hills, surfing in Sri Lanka (well, Hilary surfing and Lorna falling off the board over and over), on a pedal boat in Croatia battling not to be swept out across the Adriatic, and have a very intermittent jogging group.
Tink Tank: Do you have any recommendations for after-work activities?
Hilary: I am very active in an Australian football club (The Heidelberg Knights) and I recommend checking them out as a great way to get fit and meet new people.
Lorna: Drinking gin, hiking, or doing a bit of Impro – not necessarily all together.
Tink Tank: Where can you be found when you are not working?
Hilary: On a ski trip or planning a ski trip.
Lorna: Drinking a nice dark-roast espresso, a glass of wine, or a G&T in one of Heidelberg's cafés or restaurants.
Tink Tank: Thank you for sharing your story.