At SAP d-kom 2019, I spoke at a panel on the topic "Learning in the flow of work" – or should I say the "flood" of work. No time before has it been so essential to keep your skills maintained, and keep up with the speed of digitalization, and no time before are we seeing a rapidly increasing number of employees having difficulties getting the balance right without sacrificing health, work-life-balance and even your job. We are overwhelmed by sentences from everywhere on keeping ourselves relevant, on the edge, receiving a flow of invites for on-site events, class-room training, virtual enablement sessions etc. "How do we find the time?", we ask ourselves daily.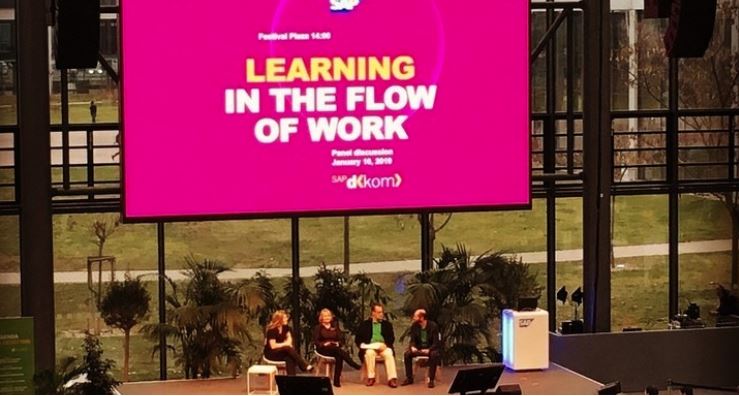 We all agree that creating a healthy learning culture is the way forward on so many levels. Employees satisfaction and health, retention rate, product quality, innovation index to mention a few. With the right learning culture, we are happier, more stress less employees – and that makes an impact on both productivity and profits. But how do you choose the right selection for YOU? How do you spend YOUR time on the RIGHT learning relevant to YOU?
As learning experts, our job should always be to focus on respecting the little time our employees have to learn and with that create an easy and individualized Learning Experience to ensure not only that you are offered the right learning path for your needs, but that this learning path can be as integrated in your daily life that you hardly recognize it as learning. It is meeting our employees where they use their productive time, make learning easy to access, to personalize and make it a consistent part of everything we do.
We can succeed if we start changing values and cultures, instead of setting up yet another change management program. We can succeed when we understand the pains of our employees and adjust our learning approach to their needs, instead of forcing them into existing systems not working. And we can succeed when we start changing behaviors at all levels to free up the time to play, try-out, fail and try out again, instead of adding more systems to the list you need to fill out and sign off.
Learning is all about mindset.